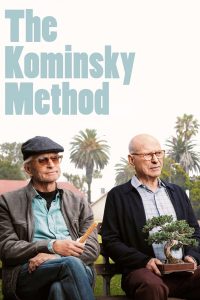 Genere: Commedia
Showrunner: Chuck Lorre
Cast: Michael Douglas, Alan Arkin, Nancy Travis, Sarah Baker.
Stagioni: 3
Episodi: 22
Durata media: 25 minuti
Sinossi: Un attore anziano, un tempo famoso, si guadagna da vivere come insegnante di recitazione.
Dove vedere "Il Metodo Kominsky" in streaming
I Golden Globe sono dei premi strani, ibrido tra Oscar ed Emmy non raggiungendone l'autorevolezza, ma spesso rappresentano un "preludio a" oppure una consolazione per chi non riesce a conquistare il premio maggiore. Dalla serata di premiazione possono arrivare dei riconoscimenti più simili a un people choice (miglior film a Bohemian Rhapsody) oppure la consacrazione della critica per gemme di nicchia, come è avvenuto per The Kominsky Method.
Diciamo la verità: eravamo stati in pochi, in Italia, ad accorgersi di questa serie. Io l'ho vista con almeno due pregiudizi importanti: il suo produttore (Chuck Lorre) e il pericolo da revival di vecchio glorie dietro l'angolo. Chuck Lorre è un autore prolifico che si distingue per sitcom classiche, brillanti senza essere troppo intelligenti, meritevoli di un 6,5 ma che si trascinano stancamente per qualche stagione di troppo: Dharma & Greg, Due uomini e mezzo e The Big Bang Theory ne rappresentano perfettamente la categoria. Il revival di vecchie glorie si manifesta invece quando prendi un cast di star che hanno passato i settanta, e affidi loro un copione che riduce il tutto a uno spin-off di "Villa Arzilla", ovvero persone mature che si atteggiano ad adolescenti con tanto di storyline che ne assecondano l'intento macchiettistico: Grace & Frankie è un esempio perfetto del genere.
Per fortuna, Il metodo Kominsky è una serie di Chuck Lorre che non sembra una serie di Chuck Lorre, e seppur prodotta da Netflix come Grace & Frankie, non ne ricalca gli errori. E' una commedia a telecamera singola su due signori maturi che vivono nella città degli Angeli, dall'humor tagliente condito da un'amarezza che spesso lascia il fondo per entrare in primo piano. Scordatevi le risate registrate, scordatevi le puntate divise con l'accetta in trama A e B con una sciocca trama C di supporto, dimenticatevi anche quei soggiorni senza soffitto innaturalmente ben illuminati e al centro di tutto. La serie prende le distanze dagli altri lavori di Lorre fin dal primo episodio. In una delle prime scene Sandy Kominsky (Michael Douglas), attore e coach di recitazione, implora il suo agente e migliore amico Norman Newlander (Alan Arkin) di trovargli un ruolo in una sitcom.
"Quei ragazzi di The Big Bang Theory, fanno un milione a puntata!"

"Sandy, quella è spazzatura. Sei un insegnante di fama mondiale, cosa penserebbe la gente, se recitassi in una sitcom?"

"Quindi non mi hanno preso?"

"No."
Questo scambio di battute serve anche a comprendere uno degli aspetti centrali della commedia: il dualismo tra l'incomprensibilità del mondo attuale e l'intimo desiderio di farne ancora parte, da protagonisti. La frustrazione dei due uomini è palpabile in molte delle loro lamentele: sono un fresco vedovo e un pluridivorziato che combattono con la morte e con il decadimento fisico, ma soprattutto si scontrano con la sgradevole sensazione che il mondo li stia lasciando indietro.
Per Norman la fonte del problema è chiara, è la perdita della moglie Eileen dopo un matrimonio durato mezzo secolo: egli fatica a trovare motivi per essere ancora vivo. Per Sandy la faccenda è un po' più complessa: la sua carriera d'attore è arenata da un pezzo, il lavoro da insegnante è appagante anche se a volte non sembra così ispirante e un po' frustrato dal livello medio dei suoi alunni. Egli è triste per Norman ed è allarmato dalla morte, ma per lo più Sandy è sempre più sconvolto dal suo corpo e dalla sua vita. Parti importanti della sua anatomia iniziano a manifestare problemi: molti, molti minuti di questa serie TV sono dedicati all'umiliante affronto della sua prostata ingrossata.
Il Metodo Kominsky è una serie di Chuck Lorre che non sembra tale, e che cela tanta amarezza dietro uno humour tagliente.
Il punto debole de Il Metodo Kominsky sembra originare dal problema che Sandy e Norman hanno con il mondo. Finché la scena è solo loro, abbiamo due mostri sacri dello spettacolo alle prese con due personaggi riuscitissimi. L'utilizzo dei personaggi comprimari, invece, sembra essere totalmente contestuale a rinfocolare il disprezzo e la mancanza d'interesse che i due "grandi vecchi" nutrono al di fuori della loro cerchia ristretta. Il metodo Kominsky non sembra saper cosa fare dell'alcolizzata Phoebe e della responsabile Mindy, le due figlie di Norman e Sandy. Lo stesso si può dire per Lisa (Nancy Travis), studentessa matura e tormentata liason di Sandy. Questi sono nodi che potrebbero venire ancor più al pettine in una eventuale (e probabile) seconda stagione. Ma per il momento godetevi questa prima tranche, una piacevole scoperta nel catalogo delle commedie di Netflix, un mondo dalla qualità sempre alterna.
Cosa funziona
Alan Arkin e Michael Douglas
Narrare l'invecchiamento maschile
Cosa non funziona
L'utilizzo dei personaggi secondari
Foto da "Il Metodo Kominsky"