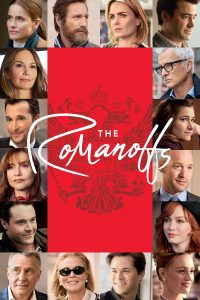 Genere: Drammatico
Showrunner: Matthew Weiner
Cast: Christina Hendricks, John Slattery, Noah Wyle, Corey Stoll, Diane Lane.
Stagioni: 1
Episodi: 8
Durata media: 1 ora
Sinossi: Dal creatore di Mad Men, The Romanoff è una seria antologica contemporanea. Ambientati in diversi angoli del mondo, raccontano la storia di persone che si credono discendenti della famiglia reale russa.
Dove vedere "The Romanoffs" in streaming
Le aspettative, di critica e pubblico, possono diventare molto stressanti e influenti per chiunque. Lo sono ancor di più, se sei l'autore di due delle più grandi serie TV di sempre.
Sei costretto a realizzare qualcosa di non banale, qualcosa che sperimenti il giusto senza perdere il tocco popolare che ha contribuito a renderti uno showrunner di successo.
Matthew Weiner, nel post Mad Men, ha seguito solo in parte questa pratica, realizzando The Romanoffs, una serie TV antologica di otto episodi dai tempi dilatatissimi (un'ora e mezzo circa).
Chiunque altro, approcciando al tema della famiglia reale russa, avrebbe pensato ad un period drama in costume. D'altronde chi meglio di Weiner per le rassegne storiche, in un'epoca così florida per il genere (con esiti altalenanti, da The Crown ai Medici)?
L'autore-cult di HBO ha invece optato per la narrazione di otto storie contemporanee di (presunti) discendenti della famiglia Romanoff sparsi per il mondo. La sigla (sotto le note di Refugee di Tom Petty, canzone che Bryan Adams ha copiato ha ispirato Bryan Adams per Run To You) ci mostra didascalicamente l'intento di Weiner descrivendo la scena dell'assassinio della famiglia reale da parte dei bolscevichi con fuga di una ragazza (la solita Anastasia?) che scappa attraverso un bosco sbucando magicamente all'uscita di una metropolitana.
Un pretesto intelligente, che gioca sui misteri e le leggende che circondano la dinastia, e che trova spunto nell'altrettanto leggendaria follia degli zar per tratteggiare personaggi che oscillano tra fragilità e presunzione, trattando temi universali dell'uomo e creando un laboratorio creativo di genere. Di episodio in episodio si salta tranquillamente dalla commedia al dramma, passando anche per il thriller. I collegamenti tra un episodio e l'altro sono esilissimi come le lontane parentele dei protagonisti; a volte la menzione è lapalissiana, e qualche attore compare brevemente anche nell'episodio "attiguo", altre volte non ci si fa neanche caso.
The Romanoffs è una serie di alta qualità (prestige drama è la nuova definizione coniata per questi prodotti), e lo si capisce sopratutto dal casting: aldilà di due "fedelissimi" di Weiner come John Slattery e Christine Hendricks, abbiamo mostri sacri del cinema come Isabelle Huppert, Aaron Eckhart o Diane Lane. A volte, però, l'indagine psicologica è fine a se stessa, mancano turning point e si usano 90 minuti per dipanare un racconto che potrebbe durarne la metà. Paradossalmente, per una serie firmata da Weiner, a volte la scrittura è il punto debole che viene "salvato" da aspetti più tecnici come fotografia, location, recitazione. Scrivo questo per dire che per vedere questa serie c'è bisogno di molta pazienza, e che se seguite la sequenza "ufficiale" degli episodi, potreste perderla molto presto e perdervi il meglio dell'antologia.
Considerato che l'ordine di visione è assolutamente indifferente, ecco alcuni commenti individuali.
"The Violet Hour" è un episodio piuttosto scialbo e prevedibile, Eckhart usato malissimo e spaesato, si salva solo Marthe Keller.
"The Royal We" crea una tensione interessante che viene, a mio avviso, totalmente sprecata nel finale.
"House of Special Purpose" è l'opposto del precedente, sembra girare attorno al punto senza soluzione alcuna, ma ha un finale a sorpresa interessante.
"Expectaction" sembra un film di Woody Allen, è cerebrale e molto dialogato, tra i migliori.
"Bright and High Circle"  gioca con Fama e pettegolezzo, lasciandoci un altro episodio inconcludente e incompiuto.
"Panorama" forse il peggiore in quanto a scrittura, assieme al primo, con l'aggravante di non lasciare nulla allo spettatore.
"End of the Line" coinvolgente, ha qualche difetto nello sviluppo della trama, ma ha l'innegabile capacità di farci partecipare ad un tema ed un dolore molto delicato e diffuso.
"The Man that holds everything" è l'episodio di gran lunga più riuscito e che valorizza, da solo o quasi, questa serie. Un'incredibile viaggio a ritroso nella vita di un uomo si trasforma in un percorso sorprendente. La chiusura del cerchio, in questo caso, è riuscita.
Il Verdetto
The Romanoffs è una serie TV priva di un arco narrativo complesso, ma non di complessità. L'ultima fatica di Matthew Weiner ha il pregio di sperimentare ma solo sporadicamente di riuscire nell'intento di realizzare un'opera compiuta. Armatevi di pazienza, se amate la produzione dell'autore di Sopranos e Mad Men, perché The Romanoffs non è per tutti.
Il parere dei lettori
2 Voti
5.8
Cosa funziona
Il casting
Temi universali
Alcuni episodi sono molto buoni (l'ultimo è eccellente)...
Cosa non funziona
...ma altri sono mediocri
La lunghezza del format è eccessiva
La scrittura non è sempre all'altezza